If you are reading this, I would bet that hanging wallpaper in your bedroom is something you like! A lot of people use wallpapers in their bedrooms; unfortunately, only a few know how to use them to their fullest potential. These decor items should not be thrown up as a way to fill in the black walls. Instead, they should play a significant role in the interior decor of your room as a whole.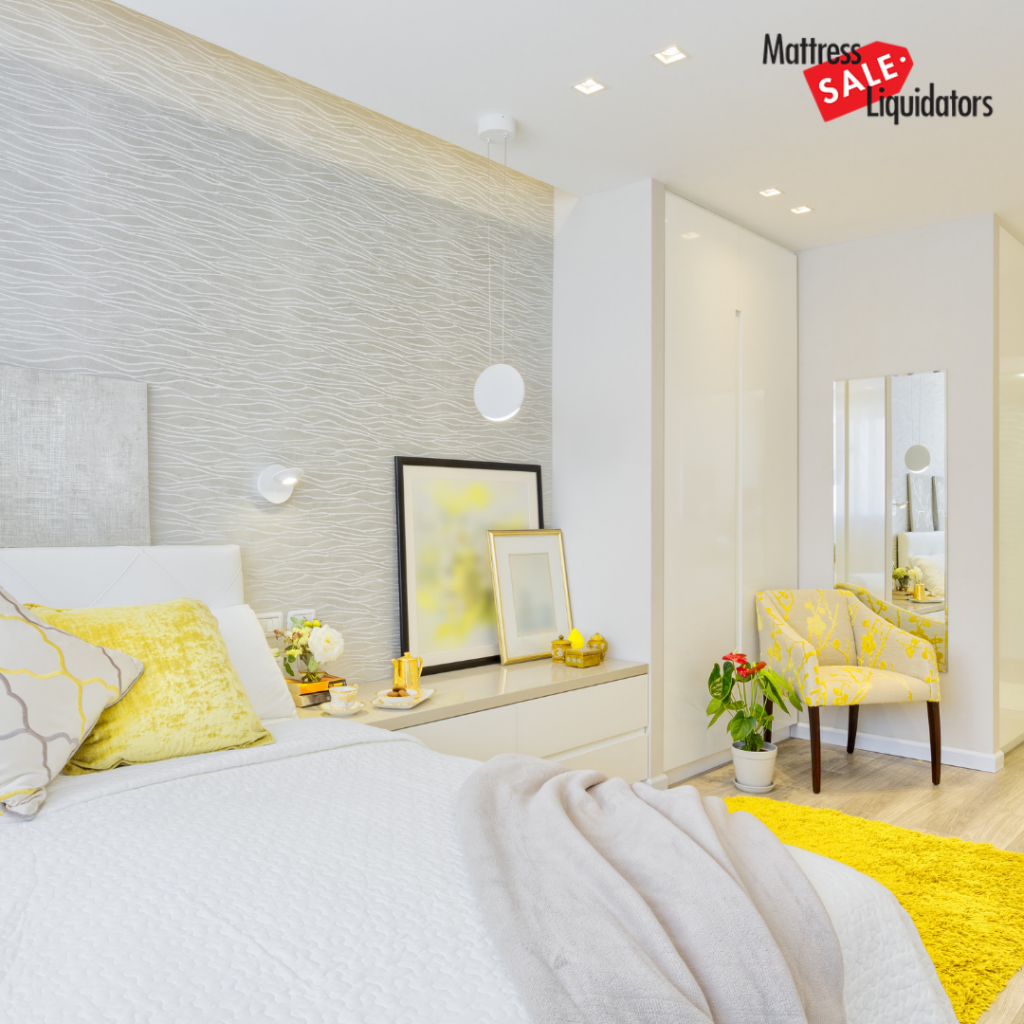 There are so many popular ways to use wallpaper to add some glamour to your bedroom. Now, you are no longer constrained to the staid prints and the four matching walling – the latest chic wallpaper designs offer so much more! The good news is they are no longer just for the wall, as wallpapers can be the winning ingredients if you are looking for beautiful bedroom ideas.

To that end, we have mentioned fresh and straightforward ways to use your favorite wallpapers in your bedroom. Pay closer attention to identify which one works best for you, and with some luck, the unique wallpaper may just become your favorite item of the entire room. Place some exceptional items from Orange County mattress stores to enhance the overall look.

Set the color palette
Set your wallpaper to the color palette of the entire room if you want to give a fantastic look. Give your room a cohesive look by using a monochromatic palette from bedding, throws, pillows, blankets, and the wallpaper.

If this is the route for you, then your job is to find the wallpaper that you like the most. You can decorate the entire room around it along with some other items you bought from Orange County mattress stores. Of course, you can go with any aesthetic that you would like but remember, the size of the pattern is essential. The size should be in proportion to the size of your bedroom. Choose a smaller wallpaper for a small room, while bigger rooms go perfect with the broad patterns.

Create an accent wall
Wallpapers create a style statement – it's a no brainer. Therefore, it is a natural fit to adorn an accent wall. An accent wall is meant to draw the eye, so it must be where you use the boldest shades and the most significant patterns. Don't hesitate to go all out!

Pay closer attention to the placement of your wallpaper; it should be one of your essential considerations! An accent wall is meant to capture the viewer's attention, and therefore is the focal point of your room. Most of the time you can choose the wall at the head of the bed as an accent wall, but it should be the exception when you are going with a more mural-like design.

Make a makeshift headboard

Furniture is expensive that's for sure! But if you are not ready to invest in a quality headboard, wallpaper could be a cost-effective solution for you. You can get rolls of wallpaper for cheap that will fit a variety of aesthetic tastes.

Now your biggest concern is the actual application. First, you have to measure the size correctly. Make sure the wallpaper is quite a bit longer than the size of your headboard. A good rule of thumb is two-to-three inch border on both sides of the headboard. Then, do your best to place it on the wall that is smooth and has not pockmarked, as it will help you avoid chances of annoying air bubbles in the final product.

If you are renting out and don't want to deal with the hectic taking down process, don't worry! You can use the removable wallpaper, and this DIY project is a handy option for you.

Add some texture
You can add a much-needed dose of texture to your room using a wallpaper. Wallpaper packs a powerful punch, and modern wallpapers can give some dramatic positive effect to your bedroom, as it's texture, design, and pattern add a particular drama and depth that you can't achieve with paint.

Add depth to the overall design of your room by layering exciting textures and patterns, as the creative application of modern wallpapers can help you make waves in your home design. Your wallpaper will always have a texture no matter what type of print you use in your bedroom, so feel free to choose a rough looking pattern to amplify the feeling of texture.

Off the wall
If you are looking for a quirky bedroom look, why not think outside the box and choose whimsical prints such as maps, butterflies, or books? Selecting a print that reveals your interest will add some personal touch and may bring a new lease of life to a dull room!

Go geometric
Turn your bedroom wall funky with geometric patterns in punchy and bright shades. Due to the busy designs, it works well as a feature all with surrounding plain walls. No matter what size or shape the room, it will create a dynamic focal point, and it is a perfect choice for a contemporary bedroom!

Are you a massive fan of using wallpaper ideas to decorate your bedroom? Add all other bedding items from the Orange County mattress to correctly design your bedroom.