Add some vibrancy to your bedroom and your life with these bold bedroom color schemes.

If you want to wake up a sleepy bedroom color palette with some bold color, let us inspire you to add some vibrant color patterns to your bedroom! Choosing the right color scheme is vital when deciding how your personal space will make you feel. Sometimes, it may be reflecting your love for white/neutral colors, bright colors, or opulent tones.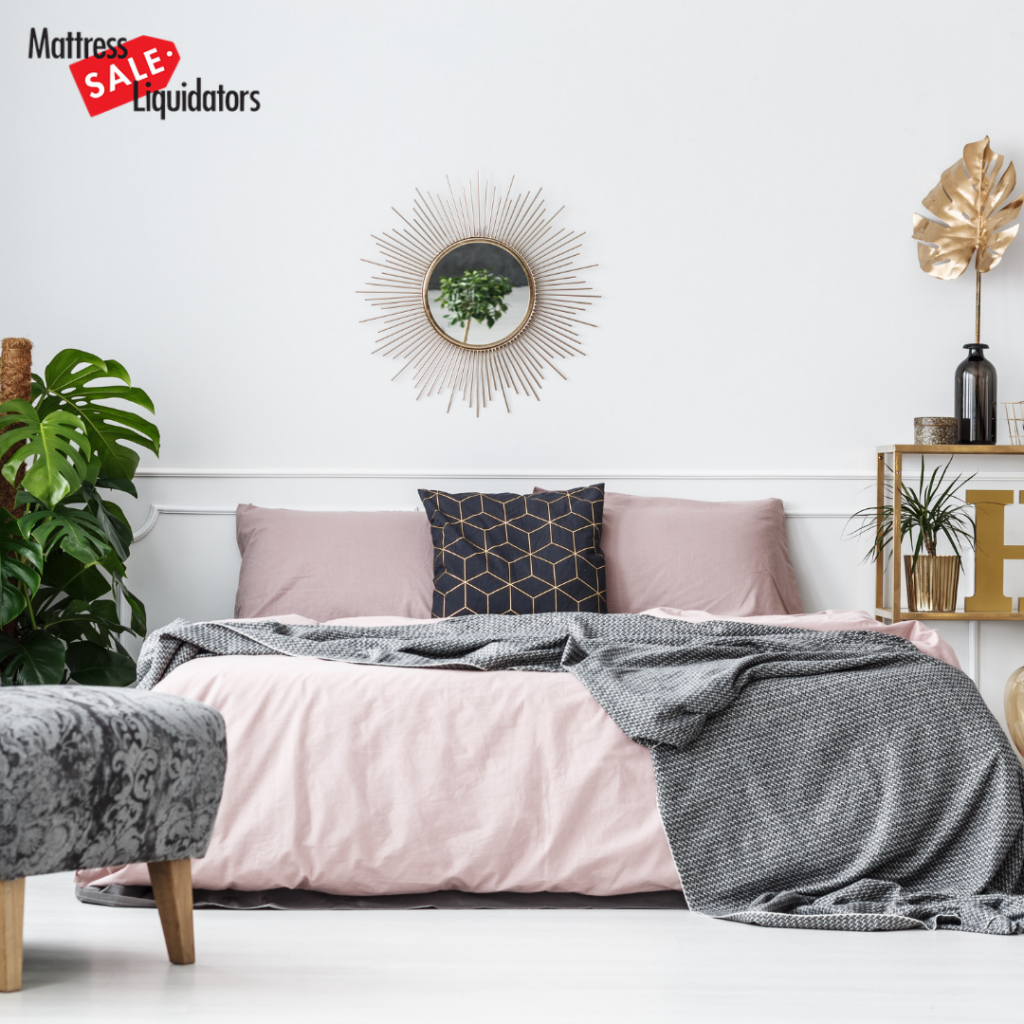 Decorate with Serene Green
If you are naturally drawn to a neutral palette, shake things up a little with serene green. Use a glorious sage green, and elegant shades of green-grey in your bedroom to create a cozy cocoon-like feel and warm the place up a little. Consider breaking it up with soft furnishing and white accessories such as white bed linen, if you don't want to commit to color up the whole place.

Go for gold and metallic
Let the midas touch take over with some metallic gold wallpapers and fabrics. Cleverly pair a contemporary mirror with an Art Deco-inspired dressing table to give a unique look. Create a stunning contrast with the bright pops of pink and red to help build up the character, personality, and lift of the room.

Use a dark color palette and dare to be different
Give your bedroom a timeless, fresh vibe with a calm, cool, and collected white and dark blue palette. Who says you can't go dark in your country bedrooms? True fans of blue will fall in love with your latest makeover, and use navy blue and indigo as if they were neutrals and you will realize that you can combine them with any of the colors of your choice. Add daring patterns and bold accessories without giving a second thought.

Pure white and nautical shades of blue compliment each other magically if you want to add a calming feel to your bedroom. To give your room a coastal living vibe, choose subtly striped wallpaper combined with a navy wool throw and white bed linen. Place white pillows overlaid by the cozy cushions in contrasting shades of navy follow, and then choose your favorite bedroom accessories and have bed linen sheets to give your bedroom an ultimate look. Try adding textures and fabrics introducing embroidered bed linen, lace wallpaper, and silk cushions from mattress Orange County.

Go trendy
Always look up design trends when it comes to prepping and planning your scheme, as the color scheme is the most effective and easiest way of creating an instant mood for every room. Get it right, and be the winner. Pay closer attention to your theme and you will feel the magic when designing a room from start to finish. Turn your room into a tropical hideaway with the feel of an island, and enhance the aesthetic by adding tropical tones and a hammock to the bedroom corner for a playful addition. Ocean-blue walls, hot-pink botanicals and parrot prints, all contribute widely to the theme, and a hammock is a masterpiece in this fabulous scheme. You can also get some trendy items at mattress Orange County.

Tried-and-Tested Palette
Grey-on-grey looks classy, and helps protect against fading. Take time to explore the depth of this color palette by combining it with different tones to create a scheme that looks consistent and cohesive. To create a distinct, rich look that is coordinated and harmonious, use grey in both the deepest and palest incarnations. And feel free to add a welcome splash of white and bright pink bedding.

Go for an overall red
Red color exhibits love, romance, and intimacy! Take red and don't be afraid to roll with it. Pick an exciting, dramatic red with warm nature for your north facing bedroom. Tone it down by pairing it with white and be confident, or give your private space an exotic feel by bringing in some lush textiles and folk prints. Bring some comfortable mattress from Orange County stores as well.

The complementary colors
For a playful, energetic bedroom, try an orange and blue combination. Inspired by a glorious sunset, use these trendy, modern combinations to brighten up your day. Add your favorite bedroom accessories and furniture items to ensure the overall design looks cohesive. Some paler pieces will finish off the look and give it that modern edge that is stunning!

Rethink pink
Use grown-up shades of pink to create a sophisticated boudoir. To boost a romantic feel in your bedroom, use the delicate nude pink color scheme. It's underlying beige tone avoids it being overly feminine, and you can make it trendy by combining it with fresh white on the walls and furniture. Wide stripes on the wall keep the balance of the color and add a visual impact. Hold back on a bold pattern, but add a unique texture with an oversized buttoned headboard and Jacquard bedspread to give a luxurious feel. Copper creates magic when combined with blush pink, and Intensify the glamour by adding a chandelier without interrupting the color scheme.

Warm tones and wood
Wood and warm tones are not just for rustic rooms! Combine polished walnut, birch, and oak with natural linens, sisal flooring and soft grey walls for a grown-up contemporary feel. Get an oversized headboard designed in walnut veneer to anchor the scheme. Layer the bed with knitted throws, tactile cushions, and natural linen bedding to give it a cozy and inviting feel. Mix wood finishes, birch, and oak for bedroom accessories and furniture – mid-toned woods like these go together naturally!

Always choose the bedroom color scheme that speaks to you the most and make it feel like your space. So which bedroom color scheme will you for your bedroom makeover?