Introduction
If you have osteoporosis, you know that finding a proper Orange County mattress for a good night's sleep takes a lot of time and patience. For individuals with osteoporosis, sleeping on a malfunctioning mattress can be not only uncomfortable but also dangerous. To ensure a comfortable and safe sleep, consider the type of mattress that will offer you the most support.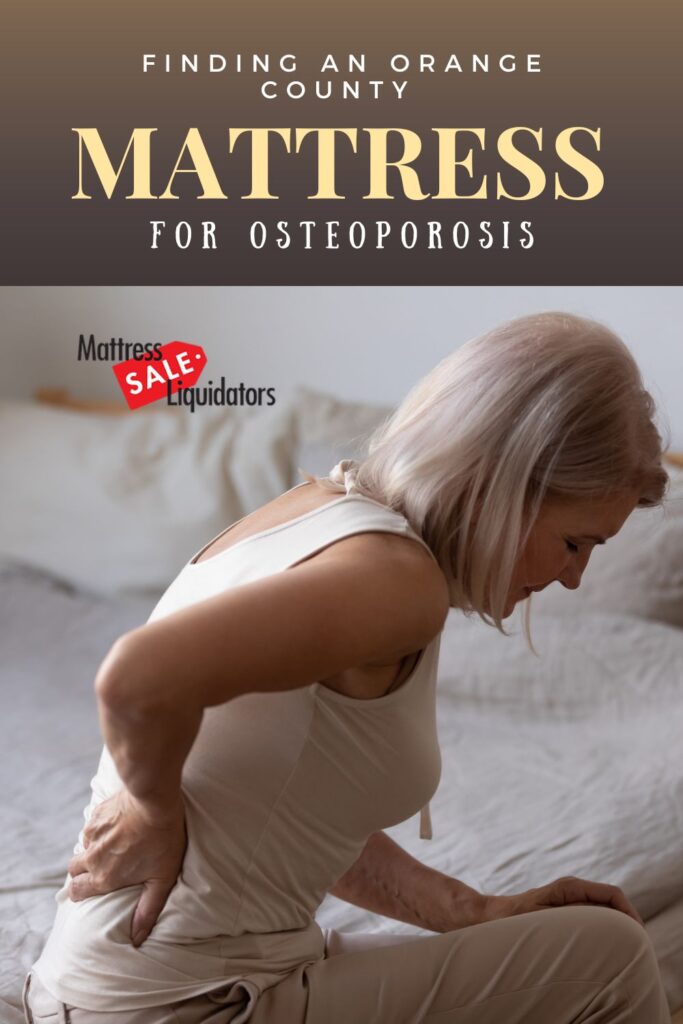 What is Osteoporosis?
Osteoporosis is a bone disease causing bones to become brittle and increasing the risk of fractures. Although men and women of different backgrounds can develop osteoporosis, research shows that post-menopausal white and Asian women are most likely to develop the condition.
This article explores five specific factors that people with osteoporosis should consider when buying a mattress.
Firmness and Support
A mattress that is too soft can result in spinal misalignment and bring about back pain. On the flip side, a mattress that is too firm could lead to uncomfortable pressure on joints and bones. People with osteoporosis should look for a mattress with moderate firmness and ample support.
When browsing for a mattress for someone with osteoporosis, you should always consider the thickness of the mattress. A thick mattress will offer ample cushioning and support, while a thin mattress may be comfortable but cannot offer enough support. It is also crucial to consider the materials used in the construction of the mattress. Organic materials such as latex and wool are usually excellent options because they are breathable and feature natural cushioning and support.
Orthopedic Mattresses
Orthopedic mattresses are typically made of high-density foam and are built to offer ample support for the spine and joints, making them an excellent option for customers with osteoporosis.
Memory Foam Mattresses
Memory foam mattresses are another excellent choice for sleepers with osteoporosis as they contour to the body and offer a comfortable, supportive surface. Memory foam has pressure-relieving benefits, making it ideal for sleepers dealing with joint pain and discomfort from a condition like osteoporosis.
Pressure Relief
People with osteoporosis are susceptible to pressure sores, so selecting a mattress that offers excellent pressure relief is crucial. When shopping at an Orange County mattress sale, look for a mattress with a soft top layer because this type of bed can help relieve pressure on the body and prevent sores from developing or worsening.
Adjustable Beds
Adjustable beds are another excellent choice for sleepers with osteoporosis because they allow for the head and feet to be raised, relieving pressure on the spine and joints. This type of mattress also offers more comfort and ample support.
Conclusion
Choosing the proper Orange County or Fountain Valley mattress is of utmost importance for people with osteoporosis. Not only can the right mattress alleviate pain and discomfort, but it can also dramatically lower the risk of further complications. Consider critical factors such as firmness and support, orthopedic design, and materials like memory foam and adjustable beds when choosing a mattress. Ultimately, the right mattress will allow a restful night's sleep and improve your overall well-being.