A canopy helps a bedroom stands out and gives it a strikingly attractive look. People have been using canopy beds for centuries for several reasons. The curtains around the bed were initially intended to provide privacy, but today they are more often for decoration.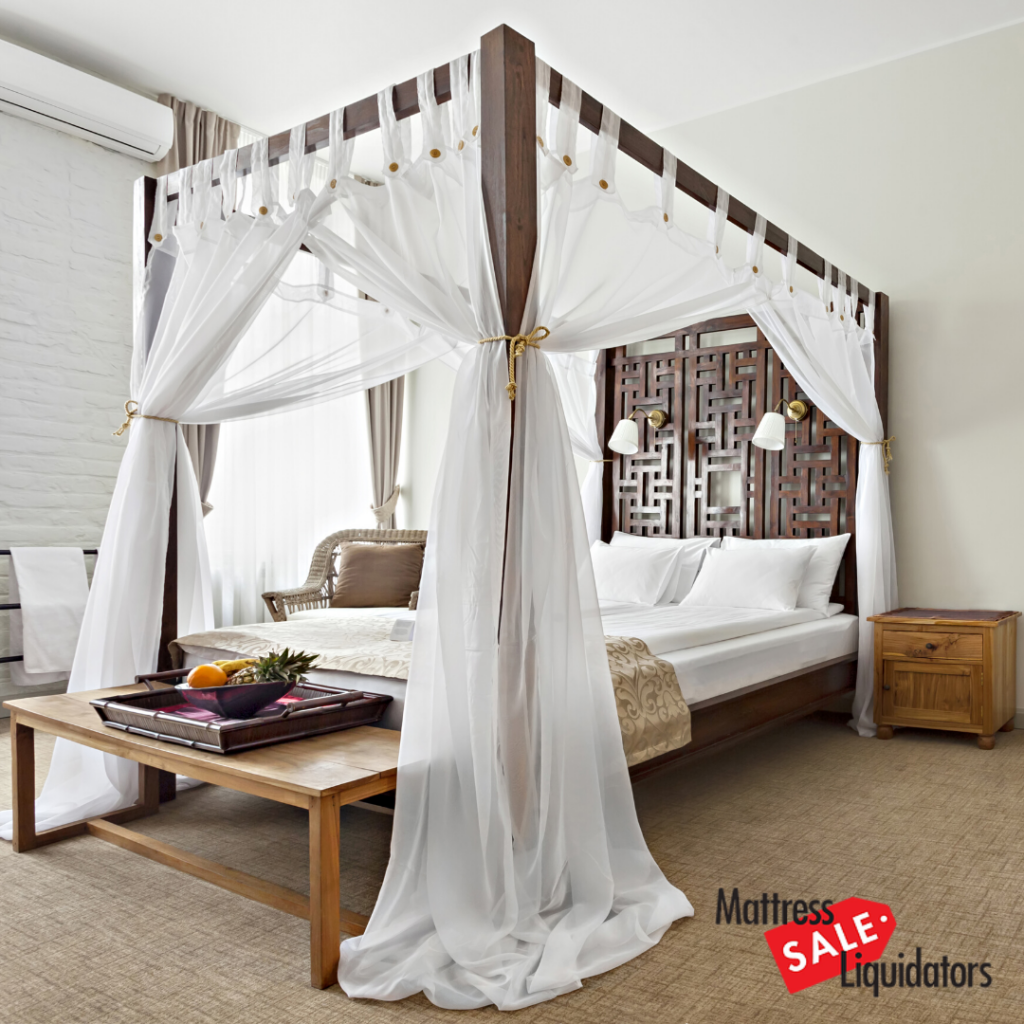 Modern canopy beds have a similar style to old Victorian houses, a style that many think looks great. A canopy bed is famous not only for aesthetic reasons but also for the level of comfort it provides. To give a customized look to your bedroom, you can choose the right quality mattress from your nearest Orange County stores.

If you are a fan of sleek and tranquil spaces, we are pretty sure you will love these incredibly unique canopy ideas.
High ceiling canopy design
A high ceiling and canopy bed often go hand in hand. In this case, minimalism is crucial. With a raised base, it will have enough room for draping flowy curtains over it. Even if you don't have curtains as part of its design, a minimalist frame alone is enough to give a high ceiling bed a genuinely fresh and stylish look.
Handmade canopy design
A handmade canopy is genuinely fabulous. Many have a very handmade feeling, which leads us to believe that it is not challenging to build something like this from scratch.

Take it a little further by adding white fabric instead of the traditional curtains that usually drapes over the bed frame with palm tree leaves and fairy lights intertwined.
A tropical theme canopy design
You can mix tropical theme canopy designs with lots of various styles, but some of the favorites are contemporary, minimalist, colonial, boho, glam, and mid-century modern. You can add tropical theme art and use green leaves instead of traditional fabric curtains. Decide on the style you want and think about how to bring tropical aesthetics to this space right.
Frame-alone canopy design
Although simple and elegant, frame-alone canopy design does not lack charm. With or without curtains, there are a variety of ways to design a frame-alone canopy bed. Whatever design you choose, make sure it coordinates with the rest of the furniture and adds an artistic touch to your entire bedroom.
Simple canopy design
There are many ways to style a canopy bed without being too mainstream. You can create a simple and magical cocoon with a glittering and translucent canopy. Use light colors that raise your spirits and energize you from the beginning.
Minimalist canopy design
Another good example is the minimalist canopy bed. A slender and straightforward frame with golden finishes perfectly matches with chandeliers or hanging lights in the center of the room.
Canopy beds with curtains
There is something special about canopy beds with curtains; they keep the warmth in and the noise out. You will somehow notice a difference as compared to contemporary designs. Today, this canopy bed is certainly not a luxury, and you can find some affordable and stylish beds along with a comfy Orange County mattress.
Soft canopy design
Of course, canopy beds with curtains do have some charm. The combination of slender black lines (forming the bed frame) and soft and light curtains (almost transparent white) is very sophisticated.
Modern canopy design
An effortless canopy bed frame without curtains and decoration is precisely the reason why so many bedrooms look stylish and trendy without becoming too mainstream.
Timber canopy design
A timber canopy design comes with a wooden frame that adds warmth to the entire room. When combined with other natural colors and materials, it creates a very comfortable and warm atmosphere.
A tiny canopy design
Can you believe you can design a canopy in your small-sized bedroom? It doesn't look overwhelming at all, thanks to a slender and tiny frame, the canopy does not look overwhelming at all. Little details like a frame hanging on the wall or the chandeliers complement the bed in the right way.

No matter what your canopy bed size is, whether it is bulky, average, or tiny, turn it into comfortable heaven to ensure you have a good night's sleep. Buy your favorite accessories, plus a cozy mattress from Orange County stores.