Have you ever noticed how color affects your mood? The right paint color in your bedroom can have a significant impact on your state of mind.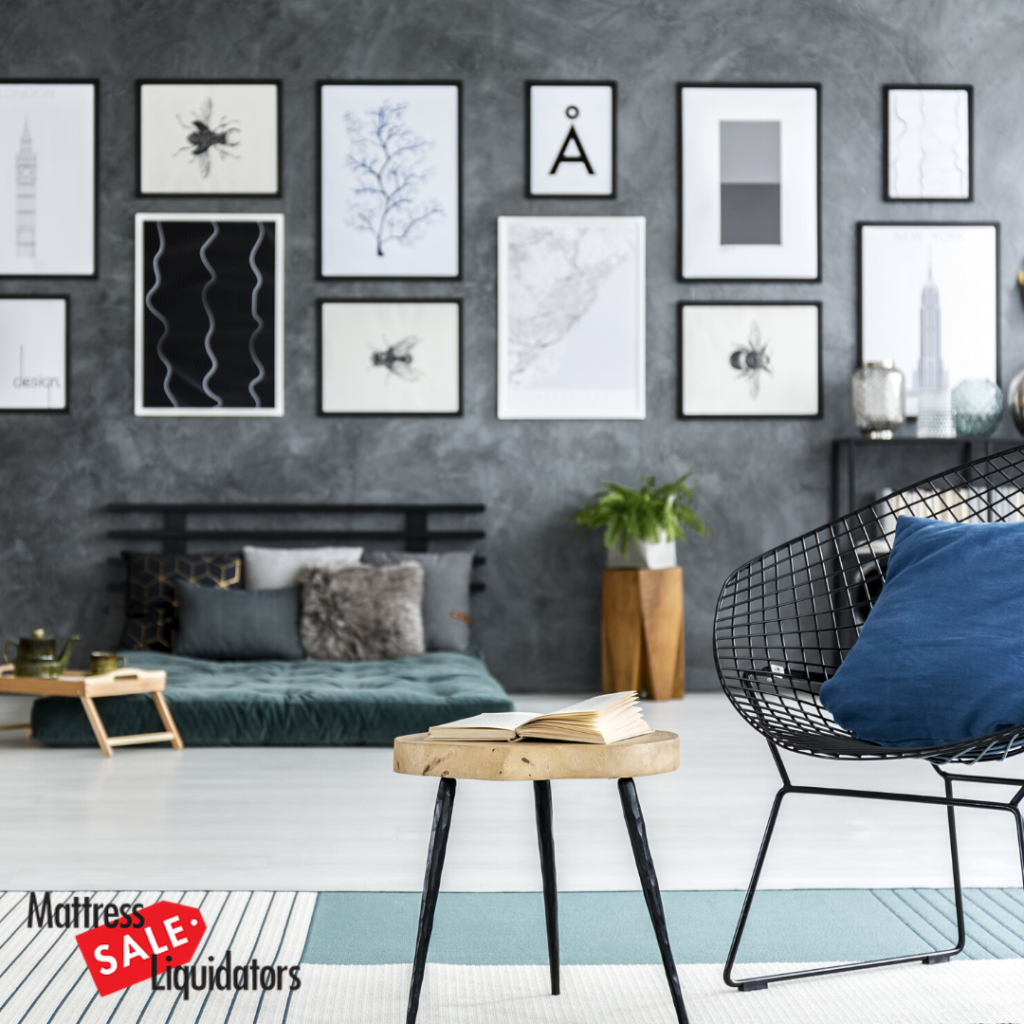 Make your room a perfect oasis with colors, patterns, and designs that make you happy and choose a comfy Orange County mattress to complete the look.
Bedroom paint ideas and techniques
Painting your bedroom is a budget-friendly way to personalize your space. To enhance the design, paint more than just the walls. Here are some innovative ideas to take your bedroom style to the next level:
Wall molding
If you are adventurous, you can increase the depth of your bedroom walls by attaching crown moldings. These will add a unique dimension to your bedroom. To add a little uniqueness, choose a different paint color for the molding.
Stripes and other patterns
You can use painter's tape to create stripes and other patterns on your walls. This will create a dramatic effect in the room. For a more subtle pattern, use the same color of paint for your pattern as you use for your background, only a shade or two darker.
Metal wall paint
If your room is naturally dark, metallic paint adds a warm glow to the walls. This kind of paint requires several coats, but it is worth the final result. You can find easy-to-use metallic paints in various colors.
Paint the ceiling
Paint the ceiling of your bedroom to add visual effects. For an eye-catching look, paint a continuous line from the wall to the ceiling, creating a canopy effect, or add stripes to the ceiling.
Lighting effect
A simple DIY project to add style to your room is a wall dimmer switch. Lighting makes a significant impact in a painted bedroom. Dimmers are inexpensive and can help create the right lighting to enhance your mood. If you paint the bedroom walls in bold colors, it can be particularly useful to brighten or dim the room as needed.
What does your favorite paint color to tell you about yourself?
Look at the colors below and choose the one you like best. We will tell you how your color choice reflects who you are.
Gray
If you choose gray as your favorite color, you like a minimalist design and the latest high-tech products. You work super hard and need a bedroom to help you recharge. Gray is not only a popular paint color, but it is also known for its soothing and peaceful effect.
Yellow
If you are attracted to yellow, you are a perfectionist and a dreamer. You are an intellectual and you a skilled business person with an interest in complex topics. You are friendly towards others and make everyone around you feel at ease. Choosing yellow means you need to give yourself more time to relax, think, and dream.
Orange
If you are an orange lover, you are highly social and fearless. You enjoy adventure, travel, and meeting friends. Orange bedroom walls evoke warmth and enthusiasm. It is one of the preferred colors in contemporary design.
Blue
Blue-preference may exist in countless shades; however, most blue lovers have one thing in common: the need for peace and harmony. If you choose blue, you are loyal, have lifelong friends, and like to do business routinely. 
Blue fans prefer clean and tidy spaces, so make sure to add some extra storage and organizing space to your bedroom. You will feel right at home and rest in a peaceful, neat blue bedroom.
Mocha
Choosing mocha means you are down-to-earth and honest. Reliable and confident people are genuinely attracted to this shade of brown. You appreciate the pure luxury of living and love to decorate your home. Being attracted to this color means you need to give yourself lots of time to unwind.
Black
If black is your color of choice, you are mysterious and attentive. Prestige and strength are essential to you. You are confident, independent, and in control. Those who are fascinated by black love privacy. Black is the perfect color to protect your bedroom — your only private space.
If you choose black as your paint color, ask yourself if you need to set more boundaries in personal and work relationships to maintain balance and control. Add comfort to your private space with an Orange County mattress.
Green
If green is your color choice, then you are easygoing, patient, and relaxed. Green is considered the most calming paint color. There are many beautiful shades of green to choose from, all of which can create a stress-free environment. 
Has your life been a little stressful recently? Buying a comfortable Orange County mattress and painting your room green can help you unwind. If you also want an environmental-friendly green room, choose low-VOC and chemical-free interior coatings.

Using color therapy in the bedroom is as simple as painting the walls. If you're thinking about using bolder colors and are afraid to commit, start small. Paint one wall, add stripes or use painted molding to accent your bedroom.