The birth of the Hollywood regency decorating style is a celebration of the glitz and glamour of the city. Hollywood Regency style was formed during the heyday of Hollywood super movies in the 1930s.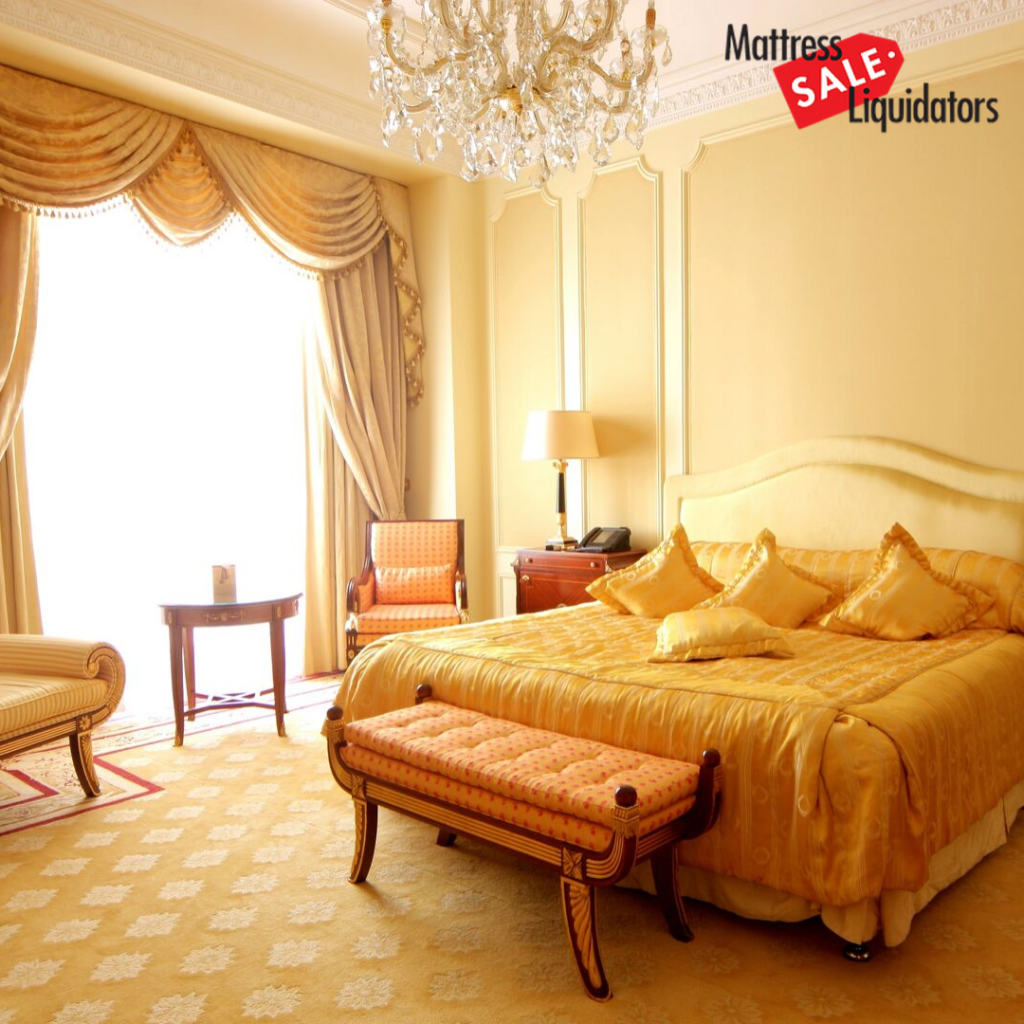 It's not a cultured look, and it's not for those who like simple bedrooms. Instead, it's about transforming space into luxury, fashion, and individuality. Add some extra comfort and coziness to your Hollywood Regency bedroom by getting your favorite bedroom decor items from mattress Orange County stores.

Attention to detail
In Hollywood Regency style bedrooms, luxurious fabrics, mirrors, tassels, and decorations, as well as beautiful wallpapers all reflect the attention to detail, which is an integral part of this decorative style.

Shine in the Hollywood Regency
In today's view of the Hollywood Regency, the overall glitz is lowered, but the charm still exists.
In these bedrooms, the lines of space are simple and clean, but the variety of luster from the fireplace to the beddings to the window covers is pure Hollywood.

Red and white Hollywood regency bedroom
It's all about a movie star with a bright red and white room – or anyone who wants to feel like a movie star.
Gorgeous tufted and upholstered walls, huge mirrors, ceiling details, and wall and door styling are typical top-notch looks.

Hollywood Regency and the influence of Asia
While glamour and attention to detail are a must for Hollywood regency, it is not limited to any kind of furniture or accessories.
In fact, this is a relatively eclectic decorative style. The influence of Asia has added a lot of style and interest, and the touch of metal gold has remained attractive. A diverse range of decorative items from mattress Orange County stores goes perfectly with this Hollywood Regency décor.

Lavender Hollywood Regency Bedroom
The color lavender is a symbol of the female bedroom and shows many Hollywood regency trademarks.
Tufting, upholstered beds, tassels on pillows and blankets, metallic tones and gorgeous wallpapers all have a very typical Holywood Regency look.

Black and white Hollywood Regency bedroom
Although the Hollywood Regency style does not have an "official" color scheme, black and white is a trendy combination. In a contemporary and glamorous room, the power of the minimal palette is a great idea.

Metallic luster in Hollywood regency style
The power of metal looks fascinating in the bedroom.
Oversized, silvery, tufted upholstered headboard and mirrored vanity combine to add to the attraction of the room.
The rooms are very open and airy. Hollywood Regency is not a messy or discerning style; it is just something that appreciates the details and the more expensive (or at least expensive) exterior of life.

Hollywood Regency Teen Girl Bedroom
Hollywood Regency is not only suitable for adults, but it is beautifully designed for teen girls who already know that they are born to be stars.
Silver headboards, striking black and white artwork on the bed, bright pink edges around the large mirror, ceiling chandeliers and metallic tones on the bedside table are the perfect elements of this style.

Golden Hollywood Regency Bedroom
Most modern bedrooms are styled in today's Hollywood regency, but some bedrooms can take advantage of yesterday's charm.
The golden color scheme, gorgeous headboards, ruffles, and draped curtains, ornate ceilings and the curved lines of furniture are reminiscent of the origins of the 1930s.

Hollywood Regency Mirror
One sign of Hollywood regency style is the use of mirrors – usually huge mirrors, but sometimes some smaller mirrors add to the charm of the room.
The golden frame around the mirror and headboard adds more appeal to this valuable space.

Experience pure perfection
The space in these rooms is fantastic, and it's hard to know where to start. Chandeliers, silky bedding, beautiful mirrored walls, elegant benches and bedside tables, fun furry pillows… Pure perfection!

It sparks creativity
In these bedrooms, there is a mix of charm and sexiness.
Dark walls and floors are silver, light grey bed charm, and oversized headboards and lovely ceiling fixtures compliment the space.

The glam wallpaper
Wallpapers are a standard tool in the Hollywood Regency style.
If the wallpaper has a metallic luster, it would be better. Mirror drawers and ornate tufted headboards are also typically metallic.

Try the tray in the charming bedroom
Want to make your bedroom relaxing and fun like Hollywood? Simply add a beautiful tray to the dresser and use it to decorate jewelry, perfume bottles, and beautiful beauty products.

Luxurious Hollywood Regency Bedroom
Moody, charming, refined, feminine, sexy: all these adjectives are suitable for this gorgeous bedroom design.
Lush fur, lux velvet, beautiful ceiling decoration, dark wall colors, and elegant red-gold benches blend to create a pure Hollywood space.

Hollywood Regency Accent
Today, you will often find hints of Hollywood regency style in a clean, modern bedroom. The mirrored bedside table adds a touch of Hollywood style to the exquisite black and white rooms.

Just a little Hollywood Regency
Find the Hollywood Regency dot in today's bedroom.
For example, a lovely bedroom with a mirrored bedside table and a large ornate framed mirror, leaning against the wall are adorned with charm, but space is mostly calm.

So which Hollywood Regency style bedroom ideas do you love the most? Take your bedroom to the next level by bringing in your comfy mattress and other decorative items from mattress Orange County stores.