Shopping for a new mattress can be a daunting task, especially when you are doing it as a couple. Not only do you have to consider your own personal preferences and needs, but you also have to take into account your partner's. It is important to find an Orange County mattress that will provide the right balance of comfort and support for both of you, but with a variety of options available, you might feel unsure what to pick.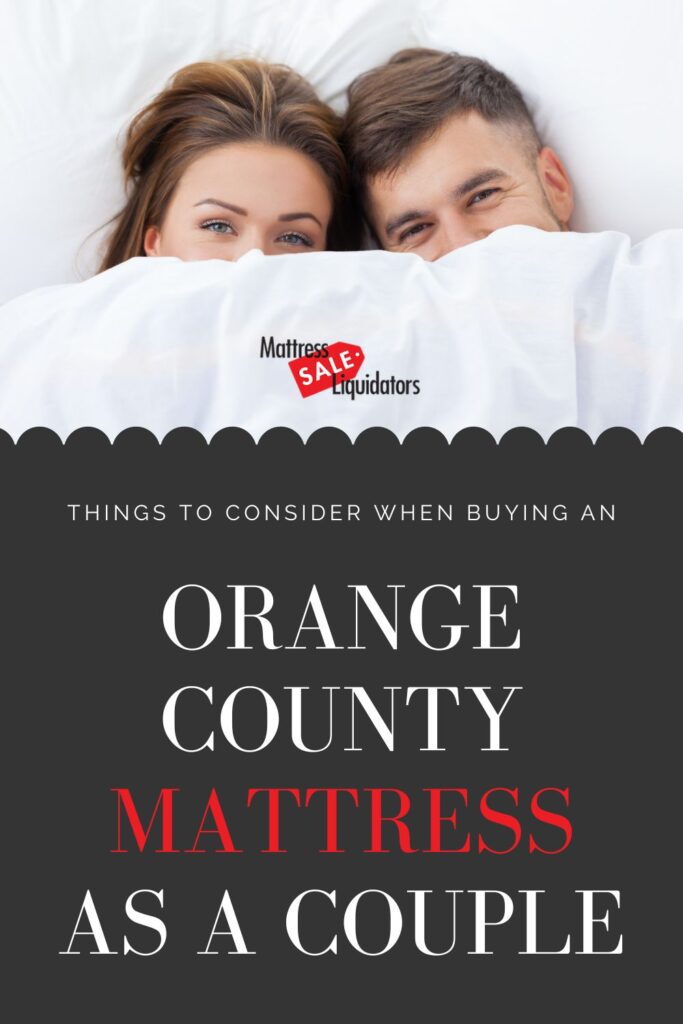 Here are five factors to keep in mind when shopping for a new mattress as a couple:
1️⃣ Determine your budget
Before you start shopping from the Orange County mattress sale, it's important to have a general sense of how much you can spend on a new mattress. Having a budget can help you narrow down your choices and ensure that you do not spend too much money.
2️⃣ Consider your individual needs
Even though you are shopping as a couple for a mattress in Orange County, it is important to remember that everyone has different sleep preferences. Consider factors such as your preferred level of firmness, whether you tend to sleep hot or cold, and any specific aches or pains you have. Do you have any specific needs, such as back pain or allergies? If you are allergic to dust or other allergens, you may want to consider a hypoallergenic mattress. Be sure to communicate openly with your partner about these preferences and needs.
3️⃣ Try out different mattresses in-store
Do not just rely on online reviews or salespeople's recommendations. Take the time to visit a few different stores and try out a variety of mattresses. This will give you a better idea of what feels comfortable for both you and your partner.
It is helpful to understand the different types of mattresses that are available. There are four main types: innerspring, foam, air, and waterbeds. Innerspring mattresses are a conventional type made with coils that provide support and a bouncy feel. Foam mattresses are made with layers of foam that contour to your body and provide pressure relief. Air mattresses have air chambers that can be adjusted to your desired level of firmness. Waterbeds are filled with water and can also be adjusted to whatever level of firmness you prefer.
4️⃣ Consider the size of the mattress
If you and your partner tend to toss and turn at night, you may want to consider getting a larger size mattress to give you both more room to move around.
If you have a smaller bedroom, you may want to opt for a twin or full size mattress. However, if you have a larger bedroom and want plenty of space to stretch out, a queen or king size mattress may be a better fit.
5️⃣ Find a mattress with good motion isolation
If one partner tends to wake up the other with their movements, it is important to look for a mattress that does a good job of isolating motion. Memory foam and hybrid mattresses are suitable choices.
In conclusion, shopping for an Orange County mattress as a couple can be difficult, but by considering your shared preferences, needs, and budget, you can find the perfect mattress for both of you. Don't be afraid to test out different options and take your time to make the right decision. A good night's sleep is vital for your physical and mental well-being. Ultimately, investing in a comfortable, supportive mattress is worth it in the long run.