Bored of your bedroom? Follow these budget-friendly bedroom updates that can be done for less than $100.
If your bedroom looks dull and boring, you can freshen it up with quick and easy DIY tricks, which requires imagination more than cash.
Get a fresh look with the help of mattress stores San Diego or liberate your inner carpenter through projects that novices can handle. You can alter the style or change the room's setting if you set yourself on this DIY project. Many of our favorite tricks take less than a day to complete, and it would be satisfying to watch the transformation you've done all by yourself.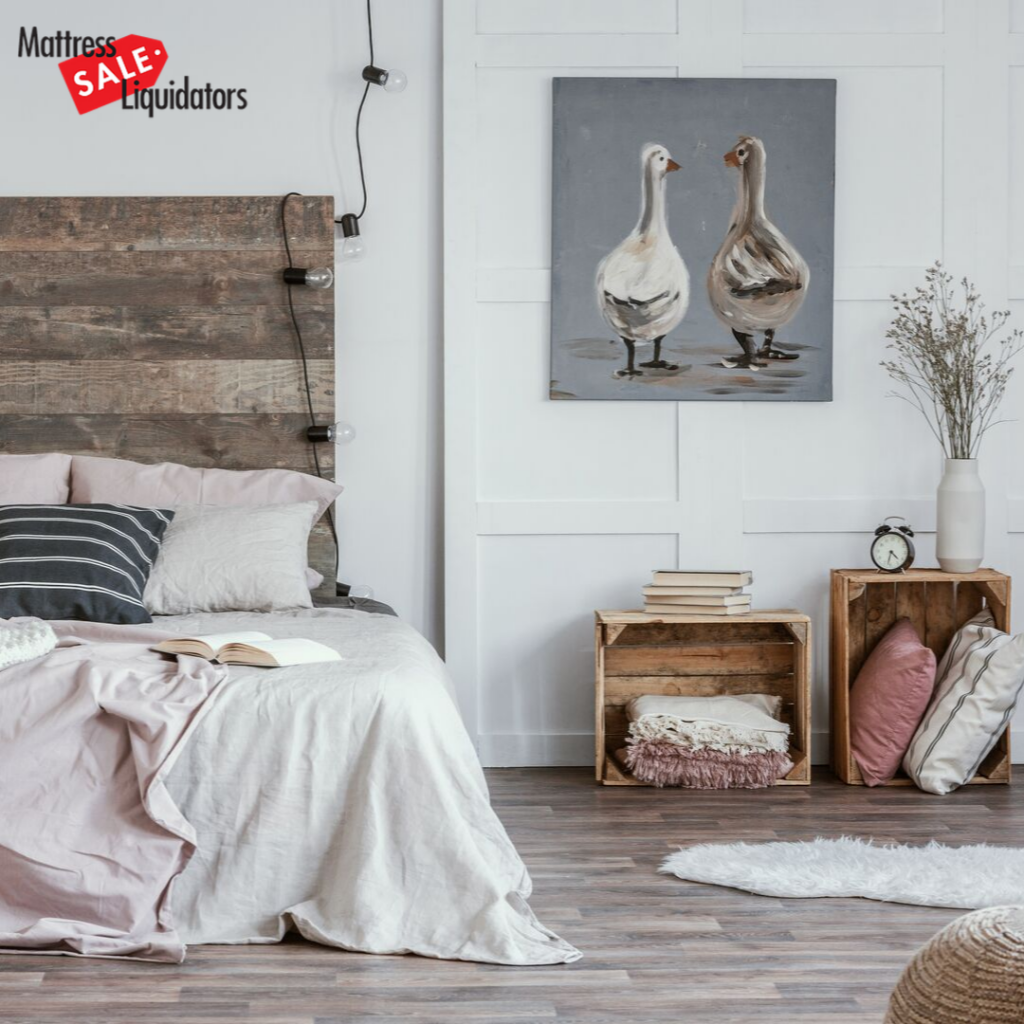 Turn the door into a headboard
If you don't have a headboard now, or if your headboard has seen better days, then you can quickly solve the problem.
The standard size door (36 x 84) is perfect for a king-size bed. Choose an old door from your local home store or look for a weathered door with a rustic charm.
Use a suitable metal L-bracket to securely lock the door to the walls. Finally, use a strip or strips to complete the installation or place shelves on both sides to secure the door.
To add coziness to your bed, get yourself a comfy mattress from mattress stores in San Diego.
Hang a new window covering
Even if your bedroom doesn't have a window, you can still hang a curtain to make it look like a window, and you can create the illusion of a large piece of glass.
Pick a stripe, pattern, or bright color to match your decoration. Don't want to spend a lot of money on the curtains? This is a quick DIY to get the job done: A hook-free fabric shower curtain, a large wooden wardrobe pole and two or three wooden brackets are the only items you need. Paint or dye the rod, screw the buttonhole of the curtain onto it, and place it on the stand. It won't cost you too much effort, and it's no more than $30 to $50.
Minimize messy bedside tables
By installing two stylish wall-mounted swing arm lights on either side of the bed, you can eliminate the need to use limited nightstand space for lamps.
The wall mount looks great and puts the light at the right height for reading on the bed. Prices vary, but we recommend that you check out for modern fixtures or online catalog for medium-priced lighting in a variety of styles.
Paint a wall, or them all
Sometimes it is hard to get more bang for your buck. Paint can quickly refresh the room, it is easy to change when you are tired of the color, and almost anyone can paint the wall!
Paint is also a good deal although it would take a bit of time to prepare the walls before starting the project. Just make sure to protect your furniture and flooring.
Add interest on the floor
If you use wooden or tiled floors, choose soft things to add color and comfort to your bedroom.
Buy reels or remnants at the carpet store. Leave bare floor approximately two feet around the room. It does not cost you too much to have edges bounds. Also, you can roll up the rug during the warm summer months. Alternatively, you can pick up a single large-sized rug or two smaller ones for each side of the bed.
Shop at flea markets and garage sales
Look for an old bench that you can place at the foot of the bed. Better if you can find one with the dated upholstery or wicker seat. Even an old piano bench can serve the purpose.
Recreate your bed with a duvet cover or new quilt
The good news is that you don't have to spend more than $100 whenever you decide to redesign your room. Grab off-season sales or shop at discount stores like mattress stores San Diego. Resale stores and consignment stores that have used bedding are worth a look. It will help give an entirely new look to your bedroom without breaking your bank.
Replace old ceiling
Chandeliers are trendy while fans are practical. One of the best ways to modernize your bedroom is to look at the "fifth wall" and add a new fan or hang an old fixture.
You can shop for styles that are worth less than $100. If you are uncomfortable with your electrical work, you can choose handyman service for an hourly service.
Making souvenir gallery
Creating a gallery wall is easy: fix old empty frames to showcase oddly shaped souvenirs, trophies, prizes, or smaller frame photos. Or attach shelves and trim strips to support the supporting family photos, children's artwork, and small books.
Keep your favorite wearables
Pull the hand-drawn cabinet to a length of 1 x 3 or choose an unusual hook from a hardware store or craft shop.
The market is a great place to find art knobs and hooks — corral belts, jewelry, baseball caps, or scarves, as they are always convenient. The graphic declaration will be a powerful statement!
You spend a lot of time in your bedroom so make sure you design it in the best possible way!