When looking at the products offered by leading mattress stores in Orange County, you might spend a lot of time analyzing, comparing, and contrasting one mattress from another—but that doesn't always have to be the case. By keeping in mind three important factors and a few simple tips, which are enumerated below, you'll be able to go home with a mattress that won't only give you a good night's sleep, but meet your other health and lifestyle requirements as well.
Support You Need
People spend one-third of their lives in bed, so you'd want a comfortable and highly supportive mattress that will ensure a sound sleep and prevent body aches. When it comes to support, the mattress's core plays a vital role and you generally have four types to choose from, namely foam, latex, innerspring, and air-filled.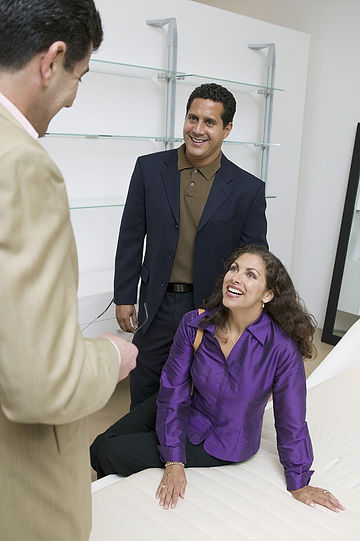 The type of core you'd need mainly depends on your preferences. For instance, if you enjoy a bed with a bouncy feel, innerspring mattresses with their springy metal coils should be at the top of your list. On the other hand, shoppers who require an extra-firm base ought to look at memory foam and latex mattresses.
Complement to Your Sleeping Habits
Before you visit mattress stores in Orange County, such as Mattress Sale Liquidators, answer this question first: What is your favorite sleeping position? Considering your sleep style and habits can lead you in the right "mattress shopping" direction. If you tend to sleep on your stomach, steer clear of mattresses with enveloping memory foam.
Opt for mattresses with a firm surface, such as air-filled, latex, and dense innerspring. Mattresses that conform to one's body shape and offer a lot of pressure relief are ideal for people who sleep more on their sides. For individuals who usually sleep on their backs, most mattress types will do fine as long as they choose a product that provides adequate spine and overall body support.
Mattress Features and Durability
Finally, consider the qualities and lifespan of the mattresses you're eyeing. Good mattresses can last for at least eight to ten years, but it's ideal to replace a mattress every five to seven years before it starts to sag or springs begin to pop out. Pick out a mattress with features that you can greatly benefit from. For example, go with hypoallergenic mattresses if you're allergic to dust mites and mold, and if you need a mattress that provides optimal temperature regulation, those with cooling gel foam can be your best bet for a rejuvenating sleep.
Source:
Buy a Better Mattress with These 6 Smart Shopping Tips, Health.com