If you have bought a mattress or you are planning to in the near future, then it is important for you to learn about mattress warranty at Orange County mattress stores.

The good news is that accessing information you need is not challenging. In this article, we will share a guide to mattress warranties, including an overview of what is and is not covered by the warranties and factors that impact a mattress warranty. We will also discuss strategies to extend the life of your mattress.

First, let's define a mattress warranty.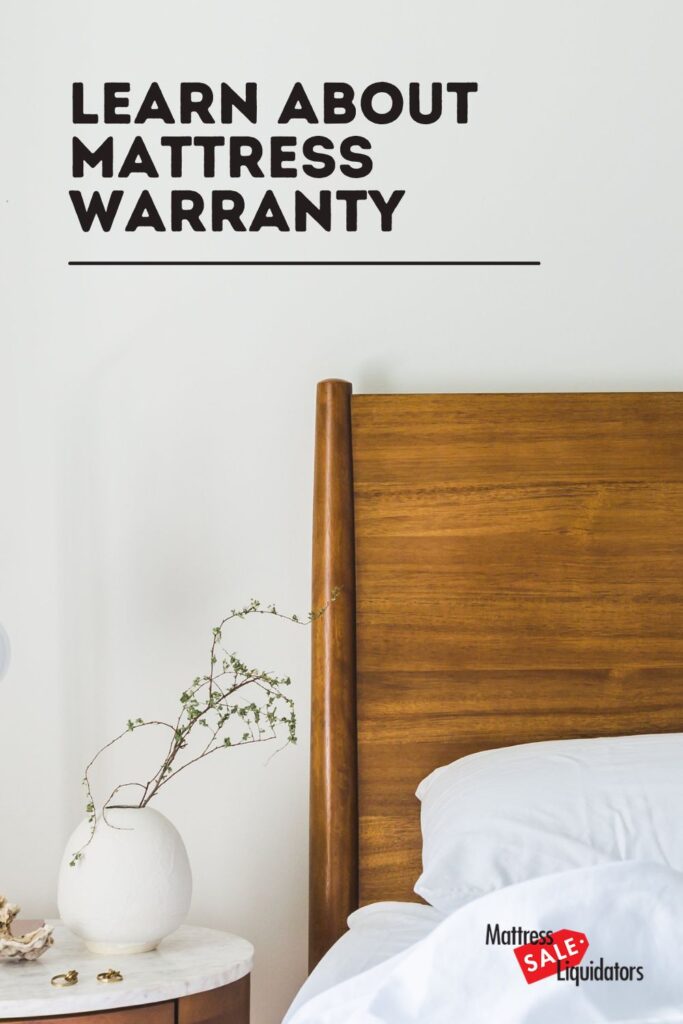 What is a mattress warranty?
Federal law requires manufacturers and sellers of mattresses to stand behind their product with a warranty. If they sell the mattress, they are legally required to guarantee repair or replacement of the product if it is sold with defects or significant flaws. Warranty has to be made available to customers both online and in-store.

Not all warranties are the same across the board. For instance, warranties may last for different periods of time. They can also be made in written, spoken, or implied form.

Mattress warranty vs. sleep trial
Mattress warranty and sleep trial are not the same thing. A sleep trial is a period of time in which you are allowed to try out a mattress and decide if it fits your needs. If you decide that the mattress does not suit you and you are still within the window of the sleep trial, you should be able to receive a refund.

On the other hand, a warranty covers you in the event that the mattress you bought has a defect. As long as you don't do anything to void the warranty, it should last a much longer time than the sleep trial.

The crucial difference is that a warranty does not cover you if you simply decide that you don't like your mattress.

Warranties are put in place to give customers peace of mind as they shop at mattress stores in Orange County. You deserve to know that the product that you are paying a significant amount of money on is made without defects and works for an extended period of time.

It's important to understand your mattress warranty so that you get the most of this financial investment.

How to read through the mattress warranty
Here is a list of factors to consider:

The length of the warranty (from when it begins to expiration date)
What is covered under the warranty (look out for hidden costs)
Your point of contact for problems associated with the warranty (either the seller or manufacturer)
How the seller or manufacturer will respond when an issue is brought to attention (will they repair or replace the mattress? Will you be given a refund?)
Does the warranty cover "consequential damages"?
The company's reputation
The various types of mattress warranties
Prorated warranty: customer is responsible for paying part of the cost of repairing or replacing the mattress.
Non-prorated warranty: customer is not responsible for paying any part of the repair or replacement fees but may be responsible for shipping fees if the mattress is sent out for repair.
Combination warranty: a mattress might be covered by a non-prorated warranty for the first few years after a customers buys it and then a prorated warranty is in place for the rest of the warranty period
What is covered under a warranty?
The specific conditions of a mattress warranty depend on the brand and seller, but here are some examples of conditions that are typically covered under warranty:

Physical defects, such as split seams, damage coils, unsmooth surface, broken or torn handles
Excessive sagging
Broken box spring
What is not covered under a warranty?

Minimum sagging
Damages caused by the mattress owner
Discoloration
Uneven surface due to long-term use
Comfort level
Miscellaneous issues due to normal wear and tear
The length of a mattress warranty
A mattress warranty tends to last longer than the expected lifespan of the purchased mattress. For instance, if a mattress warranty lasts for about five years, you can expect the mattress will function for less than five years.

In general, higher-quality mattresses have longer warranties because they are designed to last longer.

Factors that can void a warranty
You should avoid the following issues if you want to keep your warranty's coverage:

Staining or damaging the mattress with fluid
Removing the mattress tag
Failing to give your mattress proper support
Failing to flip or rotate your mattress
Not being the original owner of the mattress
How to extend your mattress's lifespan
Use the proper foundation (examples: platform bed, box spring, foundations, adjustable base)
Use a mattress protector
Avoid jumping on the bed
Vacuum the mattress twice a year
Spot-clean for potential stains.
Flip or rotate your mattress regularly.
Avoid eating or drinking in bed.
Handle your mattress with care as you transport it.
Final Takeaway
It is important that you fully read and understand a warranty provided by Orange County mattress stores. This way, you can expect the lifespan of your mattress and figure out the appropriate steps to take if your mattress has issues.

You think it's time for you to replace your mattress? Find the signs HERE.