Take your romance to the next level, with welcoming, soft, and just a bit overdone perfectly romantic bedrooms!!!
Think of evocative artwork, mood lighting, gauzy canopy beds, and plush throws to enhance romantic vibes in your bedroom. To add a romantic flair to your bedroom, you do not need to add an excess of ruffles or pink color – unless it is your ideal romantic look. But a truly romantic bedroom needs a luxurious vibe, soft texture, and stylish touches. It's that simple.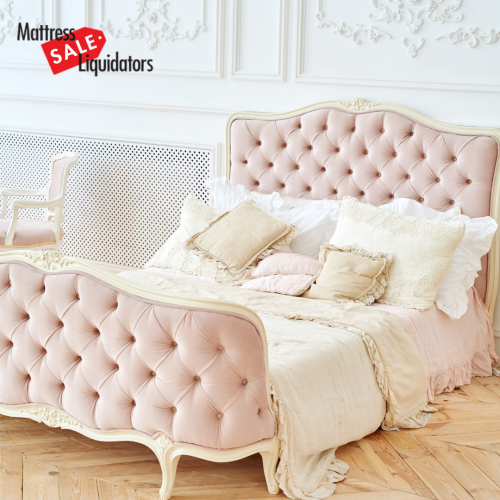 Let's keep it real. Whether you share your bedroom with your better half or none, you can always add a romantic twist to it.  A romantic impression is all about elegance, intimacy, comfort, and coziness. To enhance more elegance and comfort, you can check mattress stores San Diego.
I am pretty sure there are so many hopeless romantic folks out there. And, I would love to add some whimsy of romance to your private space where you can take your romance to the next level. Of course, it takes a lot of effort, time, and money, but it is worth it. Hey, when you see its final result, you will be surprised.
Let's dig deeper into the best romantic bedroom ideas. I am sure you will like them as much as I do. Read on to find the best ideas about how to get the romantic style right in your bedroom. Hold on, if you are in San Diego, don't forget to check out mattress stores for a comfortable mattress and cozy bedding items.
Romantic floral bedroom
If you want your bedroom to look classy, you should look for a rich contrasting golden and white palette. It will instantly turn a dull interior into a romantic Olympic escape. The comfort and coziness of a romantic floral design bedroom will instantly turn your mood on.
A bedroom that is always so soft and cozy
Soft and cozy is a cute tonal combination! Color plays a vital role in the romantic bedroom design. Not only does it make your room alive, but it also adds an intimate atmosphere to its overall charm. Try some soothing colors to create a sweet and romantic bedroom!
Classic bedroom design
The round and luxurious, beautifully decorated beds create an intimate feeling, and the murals are just a perfect match. Why not overuse bedding and choose a satin or silk fabric for a more sensual texture to make your date nights much more amicable.
Master bedroom
The enchanting arches, with their lovely patterns as the focal point of the walls, create a canopy-like effect that makes this room so intimate and attractive.
To intensify a sense of intimacy and privacy, hang curtains in front of your bed. It will feel like a cute cocoon cut off from the outside world.
Luxury bedroom
High-quality curtains in your luxury bedroom have a cute, seductive appeal that everyone loves. Use it to add a sense of sensuality, ignite the candle, and create a romantic atmosphere.
Dramatic bedroom – color it romantic
While there is no hard and fast rule to choose the perfect color for your bedroom, and there is no clear romantic color scheme, you should choose soft colors and a limited palette. Use calm and soothing colors such as gray-blue and black as the focus to get the edge and drama in your romantic space.
Pastel peach, whispery gray, blush pink and creamy white are often used in romantic rooms, but you can always add your favorite colors. However, keep in mind dark hues, and very bright colors do not match the best romantic style. If these colors call you, instead of the primary palette, you can use them as accents.
Esquire 2010
What else can stimulate romantic feelings other than the soft lightning? Your romance gets better with soft lighting. The glowing ornate lamps on either side of your king sized bedroom create a dim, glow, and soft vibe.
You don't have to spend a lot of money on romantic lightning, but yet you can have a romantic feeling all year long.  
Classic bedroom
Be sure to keep unnecessary furniture or appliances for the uncluttered room. Messy is not sexy, dear! So get some tiny closets for your boudoir and make your chic for a romantic flair.
Leave your TV and other appliance out of your bedroom because they will distract your focus. Try to spend some quality time with your partner in ultimate privacy.
Master bedroom
The essence of the romance in your bedroom is more evident on the bed than anywhere else. Gorgeous details of your beautiful bedroom design illustrate everything. A glamorous pink headboard adds a touch of color to such a romantic bedroom.
Pink has always been the color of love, just like red and white. Spray these shades on your interiors or decorations, accessories or bedding can have a great romantic impact. Add pillows, plenty of shams, soft sheets, duvets or thick comforter to turn your boring bedroom into a romantic paradise.
George V Private Royal Suite
Full of elegance and luxury details! The color of your room should be very sexy and appealing, a bunch of pillows is very attractive, because they provide you with the coziness you want when you are alone with your partner, and so you want to jump in immediately.
There you have it – welcoming, soft, and just a bit overdone perfectly romantic bedroom ideas. Making your bedroom look sexy and romantic is the halo that radiates from your room. It should be cozy, soft, relaxing bedding, cute accessories, romantic color schemes, candlesticks, more romantic appeal and flowers, sweet scent, and beautiful sights!
Oh, don't forget to check mattress stores San Diego; they have a variety of mattresses in different sizes and designs.