Are you trying to decide whether you should pick a standard king or California king bed at the Orange County mattress sale? In this article, we will discuss the differences between the two mattress types and weigh each of their pros and cons to help make the decision-making process easier for you.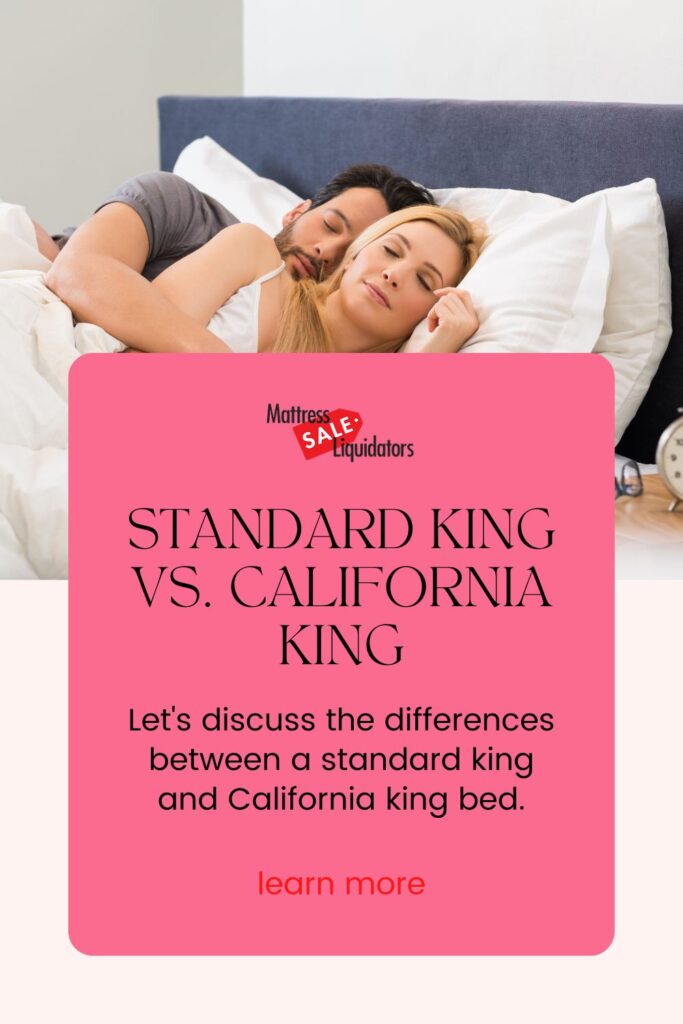 You may sometimes hear a standard king bed referred to as an "Eastern King" and a California king bed as a "Western King". For the purposes of clarity, we will only refer to the beds as standard king and California king.

You might think that a California King mattress is the largest mattress type you can find on the market. In reality, this isn't exactly true. In terms of measurements, a California King mattress is 72 inches wide and 84 inches long whereas a standard king mattress is 76 inches wide and 80 inches long.

In terms of shape, a standard King mattress looks more like a square whereas a California king looks like a rectangle because it is narrower. The California mattress may not be the largest mattress on the market, but it is indeed the longest. The standard king mattress is four inches wider than the California King, making it the widest mattress you can purchase.

Did you know that the California King mattress was made in California in the mid-twentieth century? If you need help remembering that the California king is longer than the standard king mattress, just remind yourself that the state of California is one of the longest states in the country, therefore the California king bed is longer than the standard king.

Thinking about making the California king your Orange County mattress? Let's dive into some of the pros and cons of this mattress type.

Pros and Cons of California King
Pros
Suitable for tall people
Fits well in long and narrow rooms (such as the guest room or master bedroom)
Comfortable for single sleepers and couples
Cons
Challenging to move
Finding accessories (such as sheets, mattress protectors, and pillowcases) can be difficult due to lack of availability
Pros and Cons of Standard King

Pros
Suitable for couples with kids or pets
Fits well in shorter and wider rooms (specifically a bedroom that is 12 x 10 feet or 13 x 13 feet for even more space)
Available at most Orange County mattress stores
Cons
Challenging to move
Too short for people over six feet tall.
As you can see, both the standard king and California king can be challenging to move because they are both large beds. Both beds are suitable for couples. That said, a California King offers comfortable sleep if it is just you and one other person sleeping in your bed. If you have small children or pets that like to jump into bed with you as well, you may want to choose a standard king size mattress. The standard king is wide and will give you more space than a California king.
If you are considering getting a bed base and foundation from the Orange County mattress sale, you should know that both the standard king and California king mattresses are compatible with adjustable bases, foundations, and platform beds.