Believe me; nothing can add more appeal and color to a bedroom than a beautifully-designed wallpaper. However, the truth is, there are so many people out there who are afraid to decorate using wallpapers thinking that wallpapers are costly. They believe that it is fairly impossible to get them installed without any professional assistance.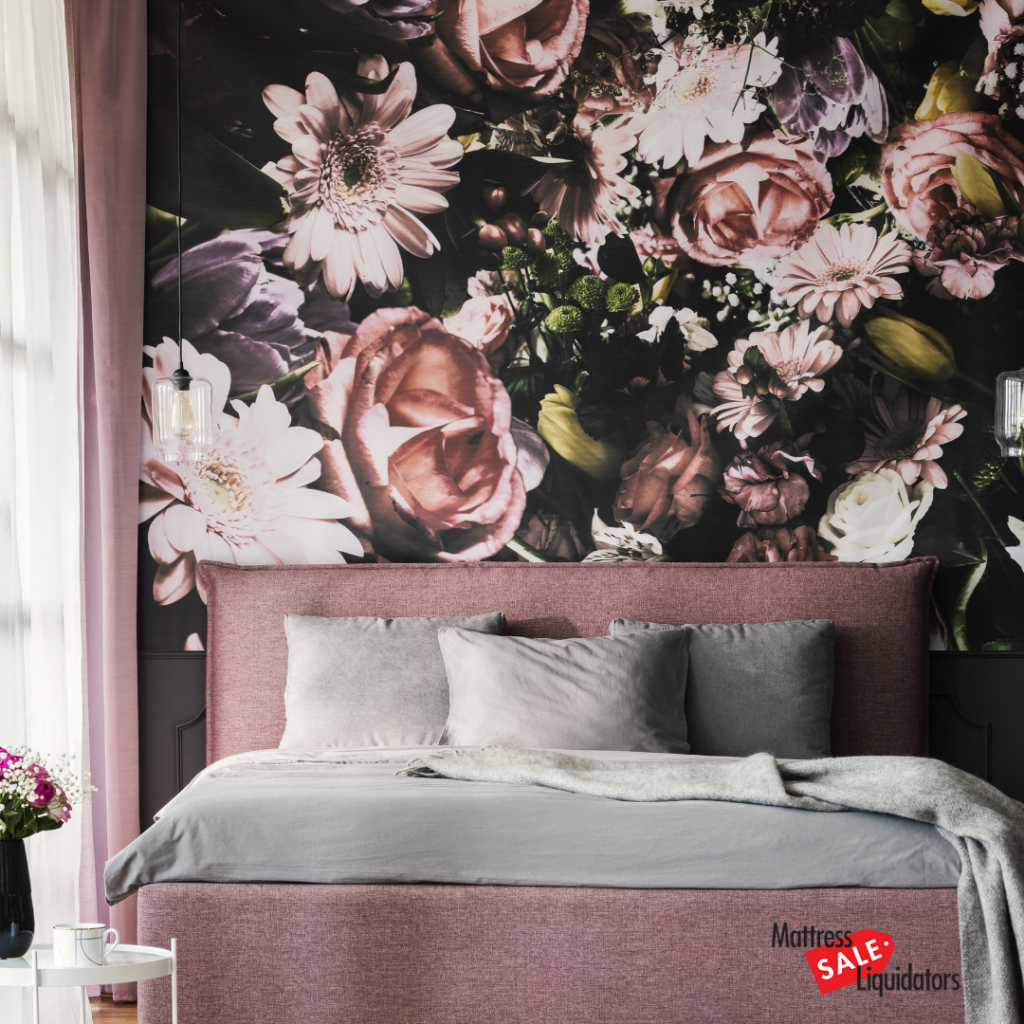 If you have been hearing this absurdity a lot, we have good news for you! You can get your favorite wallpaper and other bedroom items, including mattress from the nearest mattress stores in Orange County. Read on to find the beautifully wallpapered bedrooms that will win your heart. 
Today wallpapers, mattresses, and other bedroom décor items are available in a variety of styles for both big and small budgets at the mattress stores in Orange County. There are also a variety of options available for DIY installation, which means no installation cost is required. For example, is the peel and stick wallpaper which you can easily hang and remove from the wall. 
Add visual depth
Living in a small and tiny space is very challenging when it comes to maximizing the square footage. Use the peel and stick wallpaper to create an accent wall. Doing so will help you create a divider between the living space and the bedroom.
Wallpaper mural
Add a wallpaper mural to a black wall to give a dramatic look to your bedroom. Adding botanical prints with a dark background will give your bedroom a dash of rock and roll swagger.
A fish-patterned wallpaper in dreamy shades
This dreamy wallpaper with the shades of blue and peach can also beautify the bedroom to the next level.
Textured wallpaper
These wallpapers can add a fantastic tangible character to your room. This is a perfect choice for minimalist-inspired space lovers around the world. This appealing wallpaper in shades of bluish-gray can brighten up the whole room.
The Hollywood glam
Use the perfect bedroom décor items, including mattresses, fluffy sheets, and the romance-inducing lights from mattress stores in Orange County to create the ultimate Hollywood glam. Get your favorite banana leaf wallpaper to create some cohesion in your small room. You can cover almost everything, even a small bookshelf. 
Wallpaper to cover your weird walls
Make the most of the sloped ceilings and angled walls using the wallpaper by Cole and Son. You can celebrate the weird walls of your small bedroom using this idea by the famous New York City architect.
Pretty pink batik wallpaper
This pretty pink batik wallpaper is anything but childish. It can give your bedroom a pretty backdrop, especially when you add a vibrant rag rug and colorful bedding. It uses Shibori, which is a famous Japanese technique to dye clothes and is almost the same as tie-dyeing, which is trendy in interior design lately. 
Add your personality
Your bedroom is a perfect place for expressing your love of color. However, it does not mean you have to overdo it. Beautifully-spared pattern wallpaper provides your white bedroom a huge dose of personality.
Take your bedroom ceiling to the next level
Use Ocean Flight by Willow Lane Textiles if you want to take your child's bedroom ceiling to the next level. They provide this bird wallpaper and a variety of other adorable designs exclusively for children.
Quirky wallpaper
You will love the retro-fantastic squirrel wallpaper for your vintage-inspired bedroom. It takes the built-in shelving and the stuffy edge off the wood walls. Quirky wallpaper is a must if you have a vintage-inspired bedroom.
Create a feature wall
Featured wood wall is a pricey décor trend that has a real staying power. If you can, spend a portion of your budget to get the look of authentic wood on this realistic wallpaper.
Butterfly wallpaper
Wallpaper often turns your cook-cutter space to a personalized haven. Use this chic butterfly wallpaper as a backdrop for your decorative accessories.
A cozy cocoon
Turn the awkwardly-shaped child's bedroom into a cozy cocoon using the wallpaper, which is called Wood & Star. You will need to paste the wall first in order to hang the wallpaper.
Cover the walls and ceiling with the same wallpaper
Using the same wallpaper on ceilings and walls make a teensy attic bedroom feel bigger yet cozy. When you cover all the surfaces with the same pattern, it makes the ceiling height much taller than it actually is.
Add a pop of color
If you have a monochromatic bedroom, it is always a great idea to use modern yellow-colored wallpaper which lends a casual burst of room-brightening color. 
There you have it, the best wallpaper bedroom décor ideas. Have you already installed wallpapers to turn your bedroom into a brighter cocoon?