For those in Orange County who are getting into their late thirties or early forties, it is safe to say that you are entering the realm generally known as middle age. This can be a highly enjoyable time in your life, as hopefully, you're looking at some economic stability, raising your children, and working toward goals like family vacations and your eventual retirement.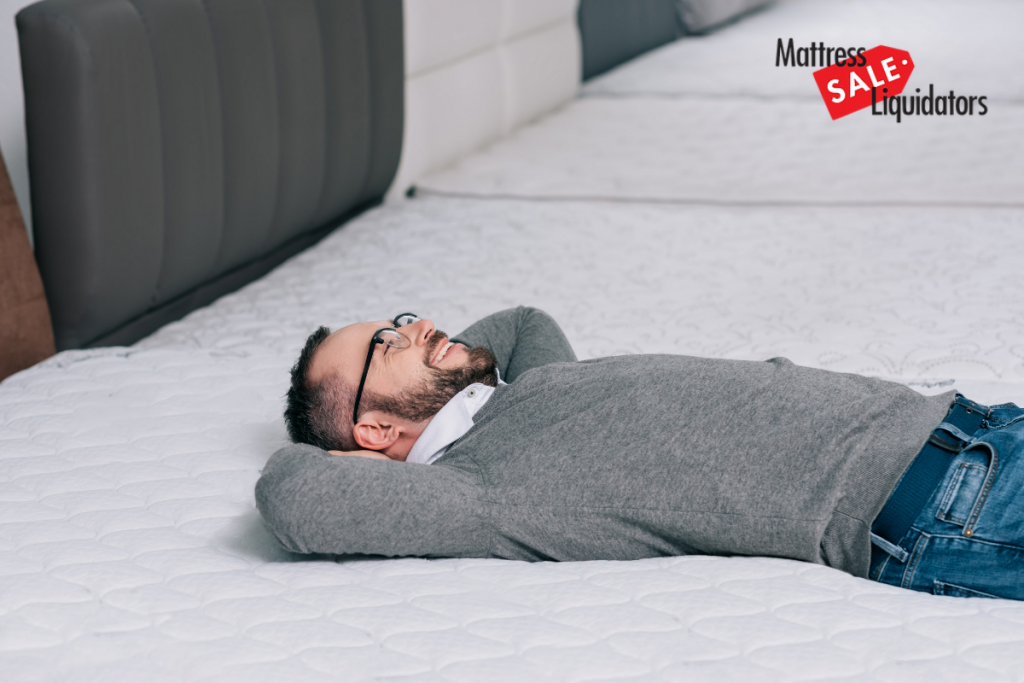 For many individuals, though, middle age can also be a time when you start to experience some aches and pains when you roll out of bed in the mornings. When you hit 40, you are much more likely to have ailments like lower back pain or neck pain than you were in your 20s. With this pain comes restless sleep cycles. The question is whether the pain is causing you to get less sleep, or whether it's something like your mattress that's to blame.
If it's the latter, then the time has come for you to head to the mattress stores in Orange County. There's not a way to turn back the clock and make yourself younger again, but you can certainly get yourself a better sleep setup that is likely to ease the pain and pressure on your hips, back, and neck.
Spinal Alignment
The best way to ease back pain is to get a mattress that provides plenty of support, while at the same time you should try and sleep on your back rather than on your side or your stomach. If you sleep on your back, then you're giving your spinal column the most support possible, and the instances of back, shoulder, and neck pain are going to decrease.
The worst position for sleep is lying on your stomach with your head turned to the side, as this can easily cause lower back and neck pain. You'll likely have lots of days of stiff necks and back soreness, so you need to retrain your body if possible. If you have trouble falling asleep on your back then it is probably because you aren't used to it, Orange County residents.
The first few nights that you try it, you'll probably want to take a nighttime sleep aid to help you drift off. There are several different over-the-counter ones, or you can consult your doctor and get one prescribed if you prefer.  
Of What Should Your Mattress Be Composed?
When you go to the mattress stores in Orange County, what should you be looking for as a middle-aged individual? The best mattresses for you are probably going to be those made with latex, memory foam, or hybrids, those being mattresses with both foam and coils inside. In other words, you should avoid innerspring mattresses since those probably aren't going to give you the combination of support and comfort that your body needs.
You'll need to look at your budget to get an idea of what you can afford, but you should be able to find options that provide the essential qualities that you're looking for if you can't justify buying one of the high-end models. These are some of the better brands for middle-aged people that are on the market today.
Nectar
Nectar is probably one of the most popular brands in Orange County at the moment, and when you try one, you should quickly see why that is. They make memory foam mattresses that are a level of medium-firm that many people seem to think is perfect for them. You get both support and pressure relief, and the price point is also competitive.
What sets the Nectar apart, though, is the fact that you get a 365-night sleep trial, which is among the longest of any mattress brand in the OC. You also get a lifetime warranty, so if anything goes wrong, then you can exchange it. That combination is going to be very tough to beat, and it's more than enough reason for lots of middle-aged people to go for the Nectar.
Puffy
The Puffy brand of mattresses is also easy on the budget and checks all of the major boxes for which you'll be looking. There's the basic model and then the Lux, which offers additional padding. They're both made of memory foam, and the customer reviews are indicative of how much people like them.
If you have a lighter body type, then the Puffy might be for you, particularly if you're under 130 lbs or so. These mattresses tend to be softer than something like the Nectar, and perhaps you'll enjoy that sensation, or you might not. When you go to the mattress stores, you should lie down on a Puffy and try it out to see if you want something a bit firmer. If you do, there are several options out there.
Avocado
The environmentally-conscious will probably go for the Avocado, with organic ingredients that are 100 percent natural. This is a hybrid mattress that some people like because of its organic cotton, all-natural latex, and pesticide-free wool. You can also get a vegan option if you want.
The Avocado is excellent if you have allergies, as it has no off-gassing and it is GreenGuard Gold certified, meaning that it has undergone rigorous testing to make sure that no one has had an allergic reaction to the components from which it is made. This is a strong brand that is well worth examining, though the slightly higher price points may make it prohibitive to some consumers.
The middle-aged body has probably racked up a few more miles than the younger counterpart, and you should no longer feel okay with sleeping on an inferior mattress if you've gotten to that point in your life. You deserve a little comfort, and even if you can't afford exotic vacations every week, you should at least pamper yourself with a high-quality mattress. If there's anything on which you should splurge, this is it.
Go to the mattress stores in Orange County and check out what they have to offer. Maybe it's one of the brands we mentioned that catches your eye, or perhaps it's another one that seems like the perfect fit for you.