When you think about activities that couples can share, heading to the mattress stores in Orange County for an afternoon of shopping is probably not the first thing that comes to mind. It's no stroll along the beach or picnic in the park, but mattress shopping sometimes becomes more urgent if you live with a person and share a bed with them, and either one or the other of you is restless during the nights.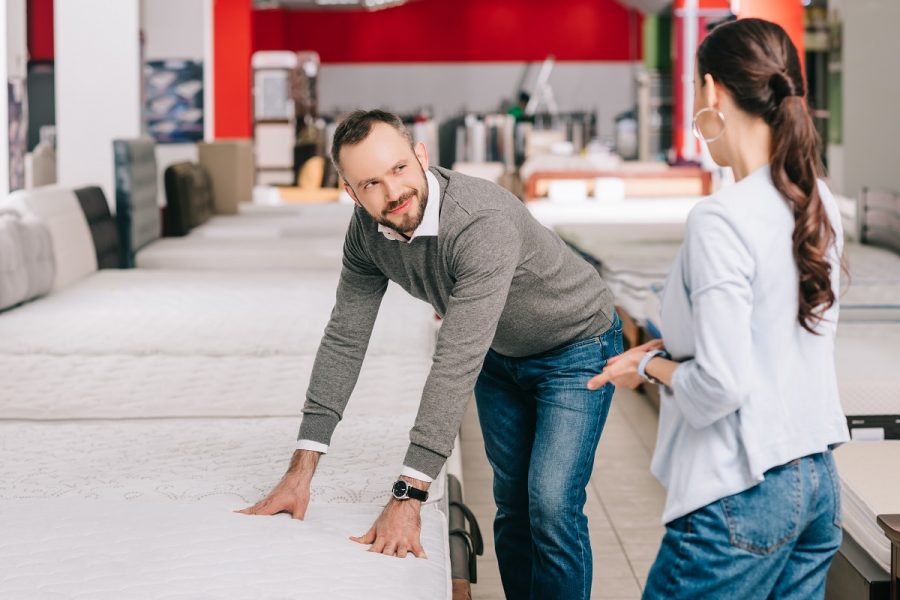 Unfortunately, insomnia is fairly common, and it is unfair for the other person to be kept awake by an active mind and a restless body lying next to them. With that in mind, here are some of the mattresses that are the best for minimizing motion transfer.  
Helix
The Helix brand offers a mattress that has different firmness options for couples that sleep side by side. Each one is customizable. The couples answer questions before getting their Helix, including ones about sleep position and weight. The Helix is constructed of a combination of memory foam and polyfoam, and it was designed with motion isolation in mind. You can be lying next to a person and spend some time falling asleep, and your body motions should not be noticeable.
In addition to all of that, this mattress comes with a ten-year warranty and a 100-night sleep trial, both among the best in the industry. It is no wonder that this model has become a top seller at the mattress stores in Orange County.
Layla
The Layla mattress brand has not been around as long as some of the other recognizable names on the market, but it has made inroads recently, particularly with couples. It has dual firmness and is flippable, which is nice. This is another model that was designed with an emphasis on motion isolation, and both sides were made with comfort layers of copper-infused memory foam. This material is meant to conform close to a sleeper's body, so that pressure points are cradled, and the spine is aligned. The copper element also has been demonstrated to improve blood circulation.
You get a 120-night sleep trial with the Layla, but possibly the best feature of all is the lifetime warranty. You're not going to do better than that, Orange County residents.
Loom and Leaf
The third contender on our list is Loom and Leaf, which comes in either a "medium" or a "firm" option depending on your preference. Couples like the fact that this model sleeps cool, due to the organic cotton cover. It has standard memory foam comfort layers and gel memory foam as well. The pain and pressure relief is also above average for those who have neck or back problems.
This model comes with a 120-night sleep trial and a 15-year warranty. Like the other two, it made the list most of all because of the motion isolation technology. You shouldn't have any trouble falling asleep with a restless person beside you on a Loom and Leaf mattress.  
Any of these models test well with couples, but to pick which one works best, the two of you will need to go mattress shopping in Orange County together. You'll likely enjoy trying out some of the options and finding one that you'll share in the coming years.